Recent News
The most recent news items from the Toronto Parking Authority
Toronto Parking Authority & Ontario FIT program Pilot at Carpark #43
Posted: 2012-11-05 00:00:00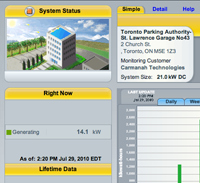 On January 19, 2010 the Toronto Parking Authority energized a Photovoltaic Power System at Carpark 43.
This is a pilot program with Hydro at our St Lawrence Garage (CP 43) which is generating power from solar panels placed on the south-side of the garage (facing the rail corridor). The Tariff Hydro Feed In (Ontario FIT) Program allows us to sell power back to the grid.
The pilot program, with Fat Spaniel Technologies, provides a complete picture of the the amount of energy generated to date,
monthly generation, Greenhouse gases avoided (CO2) etc.